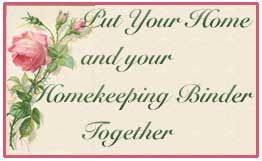 Well we're on day 18 and just about done with our series on putting together your Homemaking Binder. The first part of the series was about forms. Finding some for free and putting them in section in your binder. The second part has been more with putting your home together. Creating schedule for cleaning various rooms.
Your Child's Bedroom
Today's room is your Child's Bedroom. An easy room to clean for sure BUT what we want here is to get your child in the habit of cleaning their own room.
To help your child keep up a clean room you must start organizing solutions that are accessible to your child.
Bins and baskets are great for getting a child's room in order. You can read about some of the bins and things I did in our daughter's room here.
Help your child organize his belongings. Don't go at it alone. Classify things and get them stored away.
Have you heard all the little rules about children's toys? Here are a few you might want to subscribe to.
When your child's birthday rolls around go through their old toys with them and decide which to give away and which need to be thrown away.
When a toy goes in a toy goes out.
Store away most of your child's books and toys only brining out a few every few weeks and putting the rest away. That way when they are bored they have a whole new set of 'friends' they haven't seen in a while.
Cleaning
Another thing is to create a cleaning checklist for your child. Age appropriate cleaning chores of course.
A small child, not yet reading, would benefit more from a few pictures and very few chores. Make the bed and put away toys. Just a simple list to guide your child to tidy their room.
And then set a day, of course, for doing this cleaning. We have two days per week when Sweet Peanut must tidy her room. Put away books and toys and straighten things up.
You can keep your child's cleaning list in your binder or post it inside their closet or behind the bedroom door where they can see it.
Next up…Storage